Jamie Bronte-Stewart – Miloco Group CEO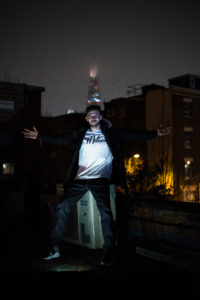 Jamie is a second generation member of the Miloco management team, following the passing of his father, Miloco's founder, Henry Crallan in 2015.
Jamie began his career in the City of London after graduating from Business School in 2010 with a 2:1 degree in Business Economics. He started in a entry-level position in the trading floor of a boutique currency brokerage in Liverpool Street, before rising through the ranks and eventually being headhunted by a larger firm based in Mayfair, where he went on to become the Head of the Corporate 360 trading team, their Chief Currency Strategist and in 2016, their 'International Employee of The Year'.
In June 2017 he resigned from IFX to focus on the family business and hasn't looked back. Jamie, quite proudly, has the worst music taste in the Miloco office and as a result is yet to even be considered for the daily office DJ rota.
jamie@miloco.co.uk
+44 (0) 203 890 5587 (DD)
+44 (0) 207 232 0008
+44 (0) 7789 998759
---
Pete Hofmann – MD Miloco Builds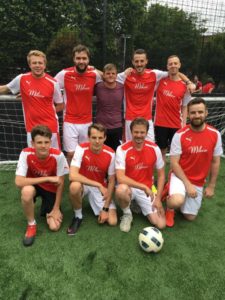 pete@miloco.co.uk
+44 (0) 207 232 0008
---
Robbie Dunne – MD Miloco Gear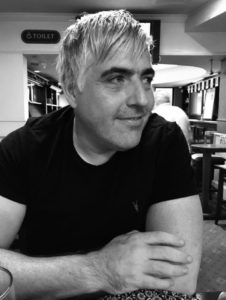 Originally hailing form Dublin and now a resident of Hove (actually) for over 16 years, Miloco Gear MD Robbie Dunne has a long and successful history in the music industry. His obsession with the record making process from an early age lead his his vast experiences as a session musician, producer, engineer, studio owner, educator to gear sales.
He prides himself on always going the extra mile for his clients, finding the best deals and advising what will be the best solution not the most expensive. An avid gear collector, just don't get him chatting about guitar pedals, as you might be there all day.
robbie@miloco.co.uk
+44 (0) 207 232 0008
+44 (0) 7748 500098
---
Peter Russell – Miloco Builds
---
Finn Eiles – Miloco Builds
---
Graeme Allen – Technical Manager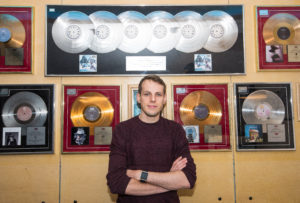 Graeme is the Technical Manager at Miloco. Mid-way through his degree in Music and Electrical Engineering at the University of Leeds he started his studio career as an assistant engineer at Pro 2 Studios back in 2007. From there he rose through the ranks to engineer, then after completing his degree he moved to London to form a studio booking company and work as a mastering engineer before being picked up by Miloco as Studio Coordinator in 2011.
Over the past 11 years Graeme has experienced (and solved) all manner of recording studio-related catastrophes, making him perfectly placed to take care of Miloco's incredible roster of studios.
graeme@miloco.co.uk
+44 (0) 203 880 8788 (DD)
+44 (0) 207 232 0008
---
Sam Rudy – Bookings Manager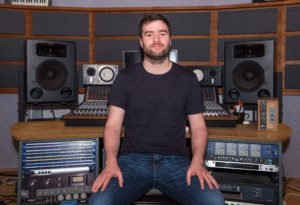 Sam is so busy handling studio bookings, he doesn't have time to tell you about himself.
One to follow shortly… probably during Glastonbury '19.
sam@miloco.co.uk
+44 (0) 203 890 4533 (DD)
+44 (0) 207 232 0008
---
Martha Inett – Bookings Manager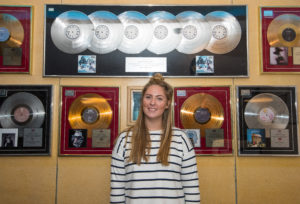 Martha joined the Miloco team as Bookings Assistant in 2016 and has really enjoyed getting stuck in to her first role in the music industry. Friendly and approachable, Martha continues to enjoy getting to know all our clients and ensuring that sessions run as smoothly as possible.
Martha has grown up going to gigs and festivals, and this deep-rooted love of live music means she is never happier than when she's in a muddy field watching a band.. preferably covered in glitter!
martha@miloco.co.uk
+44 (0) 203 890 4567 (DD)
+44 (0) 207 232 0008
---
Sam Langford – Bookings Assistant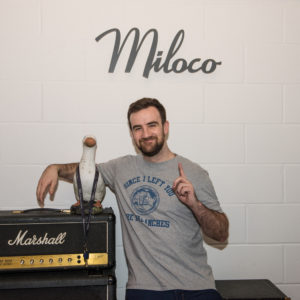 Sam joined the booking team in October 2016, as his first foray into the recording studio industry, having previously worked for Heston Blumenthal in his hometown of Maidenhead.
When he's not co-ordinating studio bookings, Sam enjoys his food, dabbling in a bit of DJing, watching the Arsenal, and spending far too much money on going to gigs and buying records.
sam.langford@miloco.co.uk
+44 (0) 203 890 4564
+44 (0) 207 232 0008
---
Nic Dacre – Bookings Assistant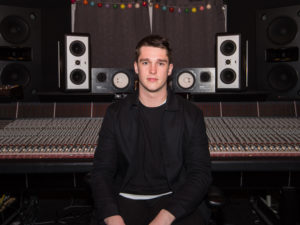 Nic is the latest member to join the Bookings Team here at Miloco. After studying Commercial Music in Bath, he went on to Intern for ICSM Records and shortly after secure Management Assistant position at Z Management. After a year's experience in Producer and Mixer management he pursued his dream of working for a major recording studio and joined the Miloco team in the September of 2017. Outside of the office and when he's not in the pub; Nic enjoys playing his unnecessarily large collection of guitars and keyboards, going to gigs and diving into the pool (swimming not the studio)
nic.dacre@miloco.co.uk
+44 (0) 203 890 4534 (DD)
+44 (0) 207 232 0008
---
Simon 'Todkillionaire' Todkill – Chief Engineer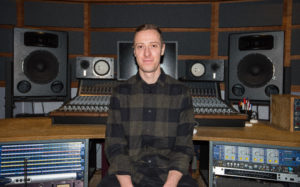 Simon has a natural aptitude for creating sonically lush recordings. Having contributed this to many alternative, independent and major recording artists' he has garnered a reputation of consistency in helping achieve artists' visions whilst maintaining their individuality. 

Before relocating to London Simon was the Senior Engineer at Sydney's Studios 301, working with artists including Kanye West, Elton John, White Shadows and Matt Corby, earning him a series of Gold and Platinum album credits and awards.

Since joining us 2017 Simon has become key member of the Miloco team and has recently been appointed our Chief Engineer. His recent highlights include sessions with Coasts, Anne-Marie, Clean Bandit, Paloma Faith, Ghostpoet, Honne, Amanda Palmer, George Ezra, Ghetts and Skepta.
simon@miloco.co.uk
+44 (0) 207 232 0008
---
Tom Archer – Assistant Engineer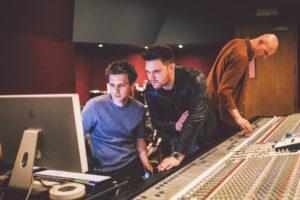 Tom has been part of Miloco as the in-house assistant engineer for Livingston Studio 1 since mid-2015. As one of Miloco's busiest flagship recording rooms, he has acquired a wealth of knowledge and experience working with a huge variety of major artists across many different genres – most notable acts include David Byrne, James Bay and London Grammar.
Tom brings an optimistic, positive energy to sessions and his great rapport with many of our clients means they're often asking to work with him again.
---
Henri Davies – Assistant Engineer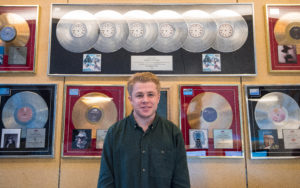 Henri has been passionate about music from an early age, studying it throughout school and going on to persue a degree in Commercial Music during which he discovered his love for music production and recorded as many bands as he could get his hands on! After completing his degree and moving to London in early 2016, he became permanent assistant at Miloco's Livingston Studio 2 and has worked with many artists, including James Bay and Emeli Sande.
---
Jamie McEvoy – Assistant Engineer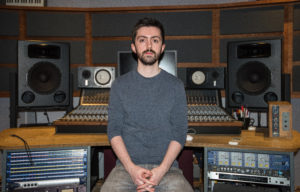 Jamie began his career in Ireland's largest residential studio, Grouse Lodge. He then went on to become the in-house assistant and engineer at Marc Carolan's Herbert Place Studio in Dublin.
Recent years have brought him to London to take up residency at Ben Hillier's The Pool, in Miloco's Leroy Street complex.
Thorough with a knack for problem solving, Jamie's time with Miloco has seen him work with artists such as Noel Gallagher, Years and Years and Songhoy Blues.
---
Georgie Koch – Social Media Manager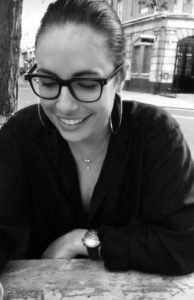 Georgie has been part of the Miloco team since first moving to the UK from Australia in 2015. Transitioning from her role as Miloco's full time Digital Marketing Manager, Georgie now acts as our Social Media Manager, looking after our socials and strategy on a freelance basis. 
With over seven years' experience in the music industry with roles ranging from PR/Publicity to A&R, content, and social media, Georgie brings a wealth of experience working for boutique companies to major labels both in the UK and Australia. When she isn't working one of her multiple jobs you can find Georgie indulging in hip-hop, red wine (Australian, of course) and telling bad cheese puns to anyone who will listen 
georgie@miloco.co.uk
+44 (0) 207 232 0008
---
Victor 'Victizzle' Akata – Social Media Strategist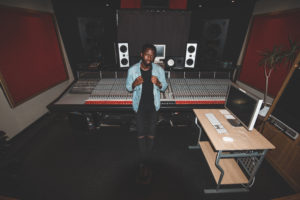 Victor is a MOBO award-winning artist and producer/mixing engineer, who has produced a plethora of tracks for the likes of Chip & Stormzy (I'm Fine, LinkupTV Behind Barz), as well as afro-pop superstars such as Iyanya and X-Factor's Reggie 'n' Bollie. He has mixed and mastered tracks for Ms. Banks (Day Ones), and Google Chrome adverts for Stormzy & Naughty Boy. Vic also hosts the YouTube web series, 'Studio Talk', where controversial debates and discussions take place inside a studio, captured by a hidden camera.
Working alongside Miloco, Victor contributes to building the brands social media presence. When he's not in the studio producing quality sounds, you can find him creative directing content at various events or maintaining a buzz by interacting with Miloco's thousands of followers on social media.
Instagram / Twitter / Facebook: @VictizzleMusic
---
Michal 'Magic Mike' Burchardt – Photographer & Videographer
Fashion / Music and lifestyle Photographer featured on Asos and MTV as also creating content for Miloco Studios .
Michal also does personal photography / videography for the world famous dancer @Shaadowsefiroth and his art company Noesis .
Working alongside Miloco , Michal contributes to creating quality images and video content for all social media and support his media partner Victor in building Miloco's social media presence .
IG : @michalbdt Twitter : @michalbdt Facebook : @michalbdt
---
Matt Church – Miloco Internship Programme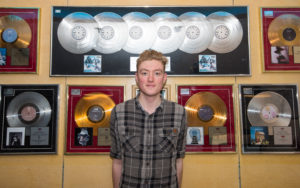 Matt is a recent music graduate taking on the great internship program at Miloco. Not only is he trusted with the coveted job of making coffee and tea, Matt is an aspiring studio engineer and is getting first hand experience with some of the UK's finest engineers and producers.
A keen musician and songwriter too, Matt is a triple threat.
---
Prince – Dog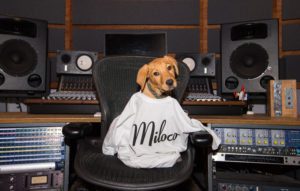 Prince is completely useless to be honest. He has no studio experience, and can't operate a telephone. He is however a big hit with the clients, and accepts payment in dog food.
---