Live Show Recording
Understanding how a live event comes together or how a tour operates is essential to seamlessly slotting into an event to get the best result with a no hassle experience.
We like to capture the complete sense of what is going on, whether it is creative solutions to recording the band or adding 20 audience mics to get the 'at the event' feeling.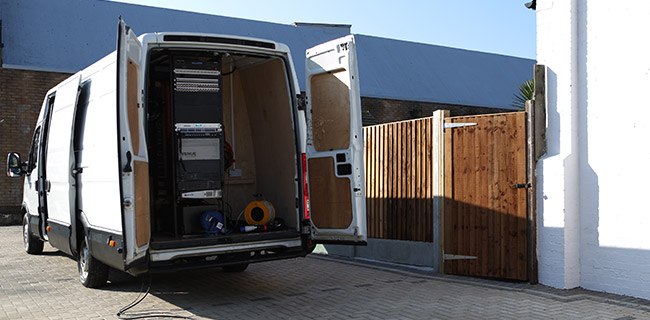 We love a challenge and our engineers will rise to the occasion. When it is 'live' the moment is going to happen and when it needs capturing you need to be ready.
Miloco & DMZ Live have a newly fitted digital recording vehicle. Our set up is compact but high-spec, allowing us to access stadiums, arenas, theatres and some of the most bespoke recording locations that our clients request.
From some of the largest records to small, intimate records, we deliver a high-quality service at very competitive rates. Our modular system is based around a Digital 128 Input Console with dual redundant power supplies. At the record core is a Pyramix (Double Headed Master & Safety) Digital Record System with up to 128 tracks per machine or we can offer Pro Tools, Reaper or Logic if a client prefers.
Where the vehicle is not suitable, we also offer a smaller de-rig / flat pack system where the record environment is more restricted, but we will still be able to use the high-quality Sony stage boxes, starting with high-end mic-amps and convertors.
For a live record, we can cover every eventuality; nothing is too big and nothing too small, we can work together and provide a solution.
Location Recording

Sometimes bands want the flexibility or creativity of recording in more bespoke or creative environments; whether in an album, single or promo session. Both the vehicle and our highly spec'd De-rig set-ups give us the flexibility for any location records. Our teams have recorded in houses, halls, in derelict buildings and remember that very cold field in Essex! If you have a location in mind give us a call to discuss it, however challenging it might be.
Video & Film Shoots
Our teams have expertise in helping you with video and film shoots. We have experience in recording audio in closed venues, burlesque clubs, an uninhabited island in the middle of an estuary, as well as more conventional film and rehearsal studios. We have worked very successfully with many clients and labels including Virgin, Parlophone, Mute and Beggars Banquet. Our extensive broadcast and post production knowledge means the project will be heading in the right direction from planning to final delivery.
Our mobile or systems can provide a full multitrack to take away, or use our experience of mixing live to CD, TV, Streaming…
Back at our studios, we mix, edit, tune or dub in an ideal environment.