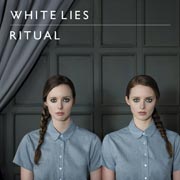 Having toured the stadium and arena circuit throughout 2010 as support to the likes of Muse, Kings of Leon and Coldplay, London 3-piece
White Lies are back with their second album, and one which will surely make one of the biggest impacts on the charts in 2011.
Ritual is the follow-up to 2009's To Lose My Life…, and was produced by Alan Moulder and Max Dingel. We're proud to announce that the album was
tracked and mixed at Miloco, in Assault & Battery 2 and 1 respectively. It hits the shelves on January 17 following lead single 'Bigger Than Us'.