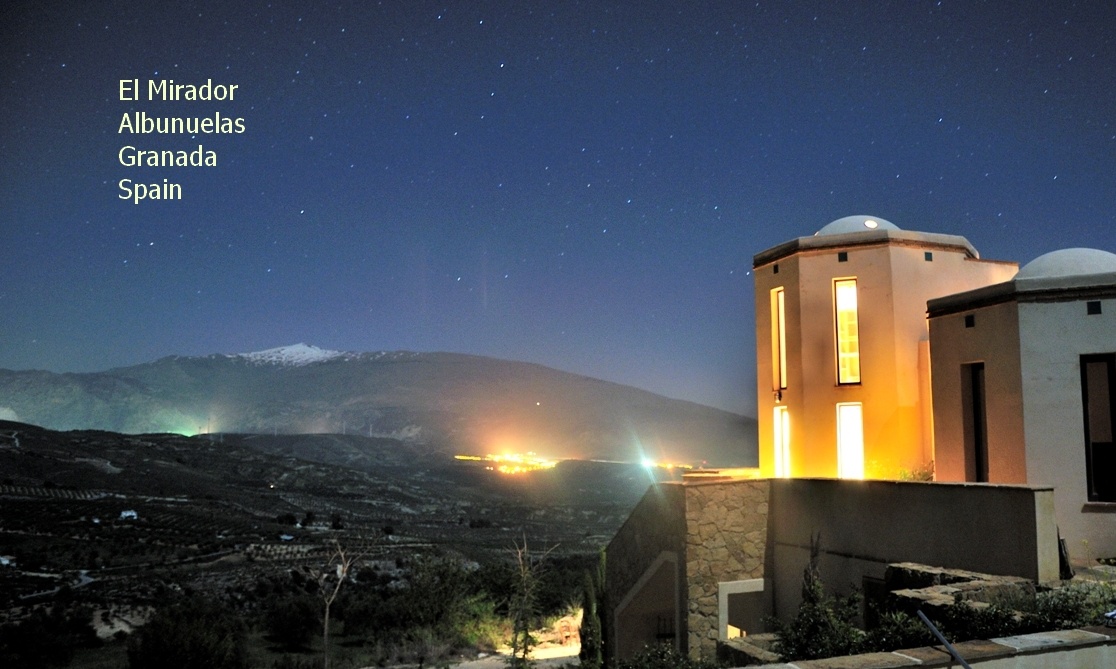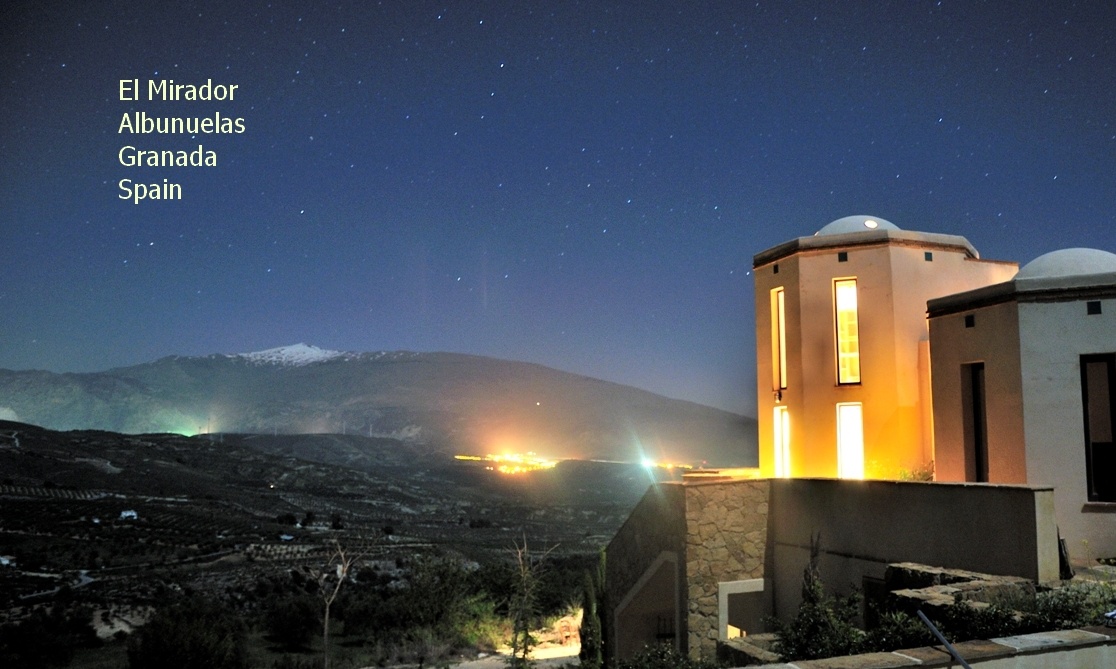 El Mirador residential recording studio is something truly special. Based in Andalucia, Southern Spain, it is owned by legendary producer Youth (Killing Joke, The Orb, The Verve, Paul McCartney). This is the ultimate 21st century creative retreat and the perfect place to inspire your music.
Designed and built by Olympic Studios' Terry Ottley, this wonderful studio is greatly influenced by the legendary Olympic Studio 2, as well as a number of Youth's other favourite rooms from around the world. A compact, day-lit control room, large day-lit recording area and three isolation booths filled with backline make up the studio which sits on the lower ground floor of a modern Moorish-style villa…
With mesmerising views of the Sierra Nevada National Park, El Mirador's accommodation is private, secluded and luxurious. It features floor to ceiling windows throughout – the entire building absorbs the warm Andalusian sun that shines through most of the year. With eight bedrooms and a two bedroom guest house there are plenty of sleeping areas for guests, and the large, open plan living areas enhance the feeling of light and space.
A private swimming pool, artist studio and sauna add the finishing touches to this luxurious retreat, but it is perhaps the incredible surrounding views and the region's famously mystical climate that make El Mirador really stand out from the crowd of world class residential recording studios…
The El Mirador Residential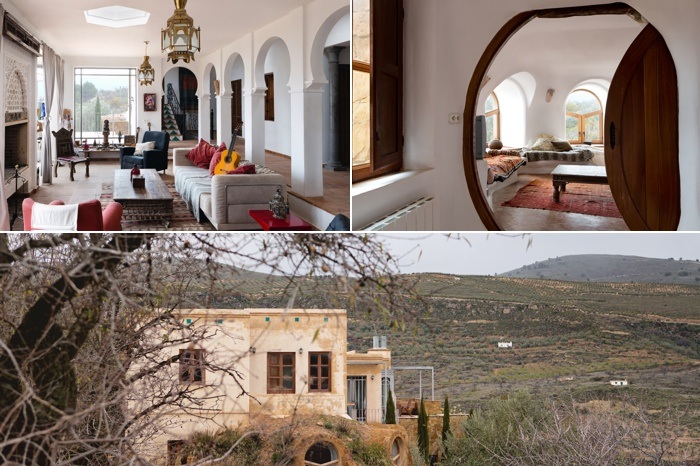 The ideas behind El Mirador's villa and gardens came from years of esoteric research and practice. The site is located just outside the mountain village of Albuñuelas, near Granada in the south of Spain. It is set within 40 acres of ancient olive groves and is surrounded by a vast National Park with beautiful forests and breathtaking views of the Sierra Nevada mountain range. Here, you can enjoy 300 days of Andalusian sunshine and can ski until April. Hit the slopes in the morning and the beaches of Spain's tropical south coast in the afternoon…
The property has been designed in a modern Moorish style. A Moroccan courtyard leads you into the villa's beautifully furnished lounge with open log fireplace and large windows looking across a veranda to the distant mountain range, and which can be fully opened during the warmer months. There is an open plan dining area and kitchen adjoining the lounge where you can enjoy views of the mountains and private gardens.
Eight bedrooms accommodate up to 16 guests, and there is an additional two-bed / two-bath guesthouse that caters for four.
El Mirador's stunning landscaped gardens are the work of acclaimed designer and Chelsea Flower Show winner, Andy Sturgeon. His design at El Mirador centres the house and studio around a Daoist Pentagram, with each of its five points representing one of the five key elements – Earth, Metal, Fire, Wood and Water. Guests are encouraged to make use of these various elemental spots that are designed for different purposes, for example, the Earth Point has been conceived to absorb the dark earth elements of inspiration through its cave-like, saturnine garden – the perfect remedy to lift low spirits. You'll find a fire pit at the Fire Point, a water pool at the Water Point and so on, each a reflection of El Mirador's strong spiritual aura.
Other luxury features include the outdoor swimming pool, newly-built sauna and artist's studio, as well as a fully stocked library of books and Youth's vast personal collection of vinyl.
www.miloco.co.uk/studios/el-mirador/residential-overview/
The El Mirador Recording Studio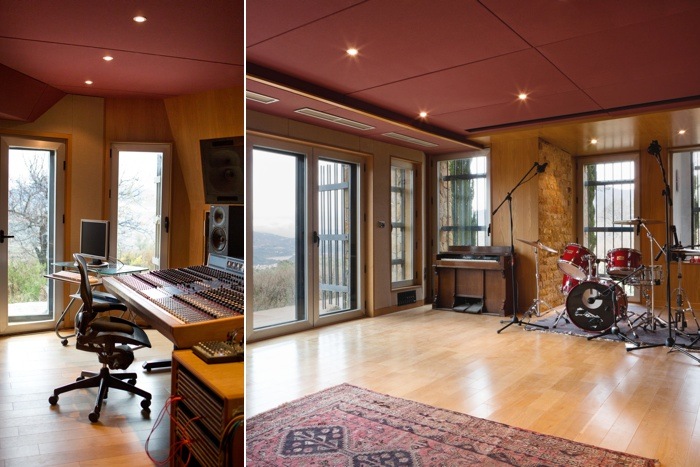 Youth first seeded the idea for this outstanding recording studio in 1993 when in New Zealand recording Crowded House in a residential with a very elemental nature to it. Another vital influence was his former Brixton room, Butterfly Studios, with El Mirador being described as the 'karmic legacy of Butterfly', as was the legendary Toyoshima-designed Olympic Studio 2.
"I had spent many years in Olympic and Studio 2 was my favourite sounding room in the world and Studio 3 the best Mix control room ever. So, my vision was a combination of these rooms, filled with some vintage Guitars and amps I have personally collected. Add a valve console, put it all together and this is my dream environment for writing, recording and mixing." – Youth
The El Mirador studio has a gloriously lit live room due to the full length windows that can be fully opened in warm weather. It is the perfect space for recording bands, with a wooden floor and a small stone walled area at the far end that is great for tracking drums.
There are three isolation booths providing plenty of options for separation, and which are packed of full guitars, bass guitars, amps and effects.
The control room is a compact but fantastic-sounding space. The windows on the left side of the room allow plenty of daylight in, and also provide spectacular views of El Mirador's surroundings. At the centre of the room is the valve 32 channel TL Audio VTC console. The speaker wall contains some brilliant Genelec 1039a large studio monitors which complement the active Mackies. At the back of the room is an outboard rack including Focusrite, Urei, DBX and Lexicon models.
www.miloco.co.uk/studios/el-mirador/studio-overview/
An Exclusive Interview with Youth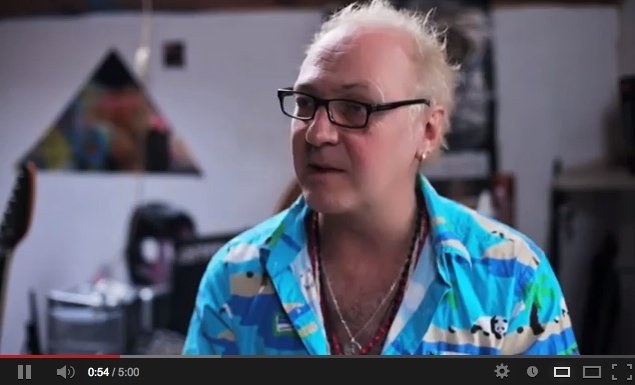 For the launch of El Mirador, we carried out an exclusive interview with the legendary Youth, who talked about his amazing Spanish residential, the inspiration behind the studio and his brilliant career in music.
The interview was filmed at Youth's home studio in London, and is now uploaded to YouTube. Please have a watch to find out more about the incredible El Mirador recording studio.
www.youtube.com/watch?v=D0t-TyCOles&feature=youtu.be
El Mirador residential recording studio is now open for bookings. Contact the Miloco office on +44 (0) 2072320009 or email bookings@miloco.co.uk with all bookings enquiries.