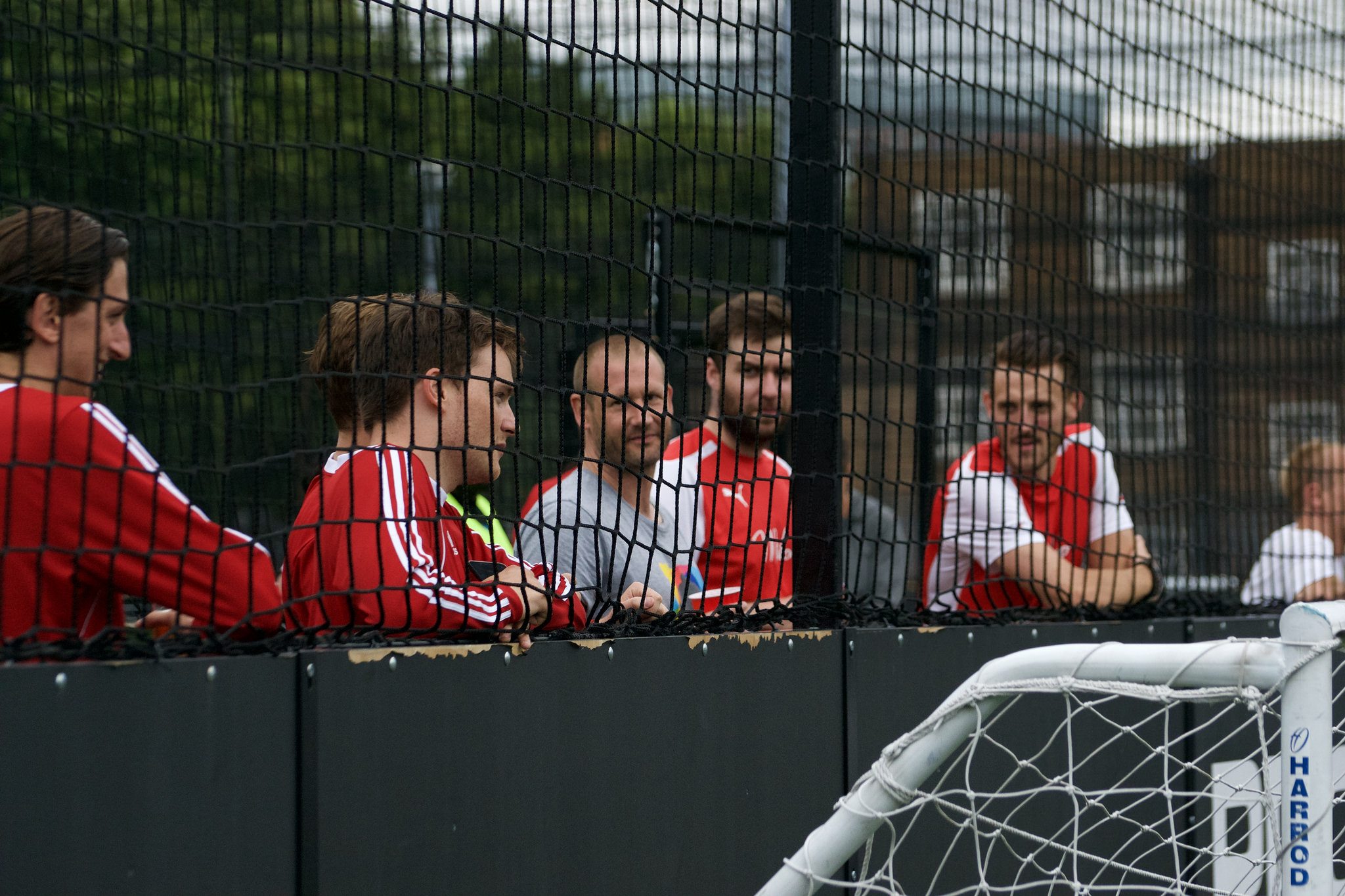 With the booze behind the bar, the gazebo up and the DJ (special mention to Gordon Ellington for providing the vibes) spinning, the stage was set for the return of probably the finest football tournament in the World. With 15 minutes until kick off and only half of the teams arrived, things were looking a tad sketchy, but this being the music industry, everyone (well, almost everyone *cough* SB.TV *cough*) arrived just after they were supposed to.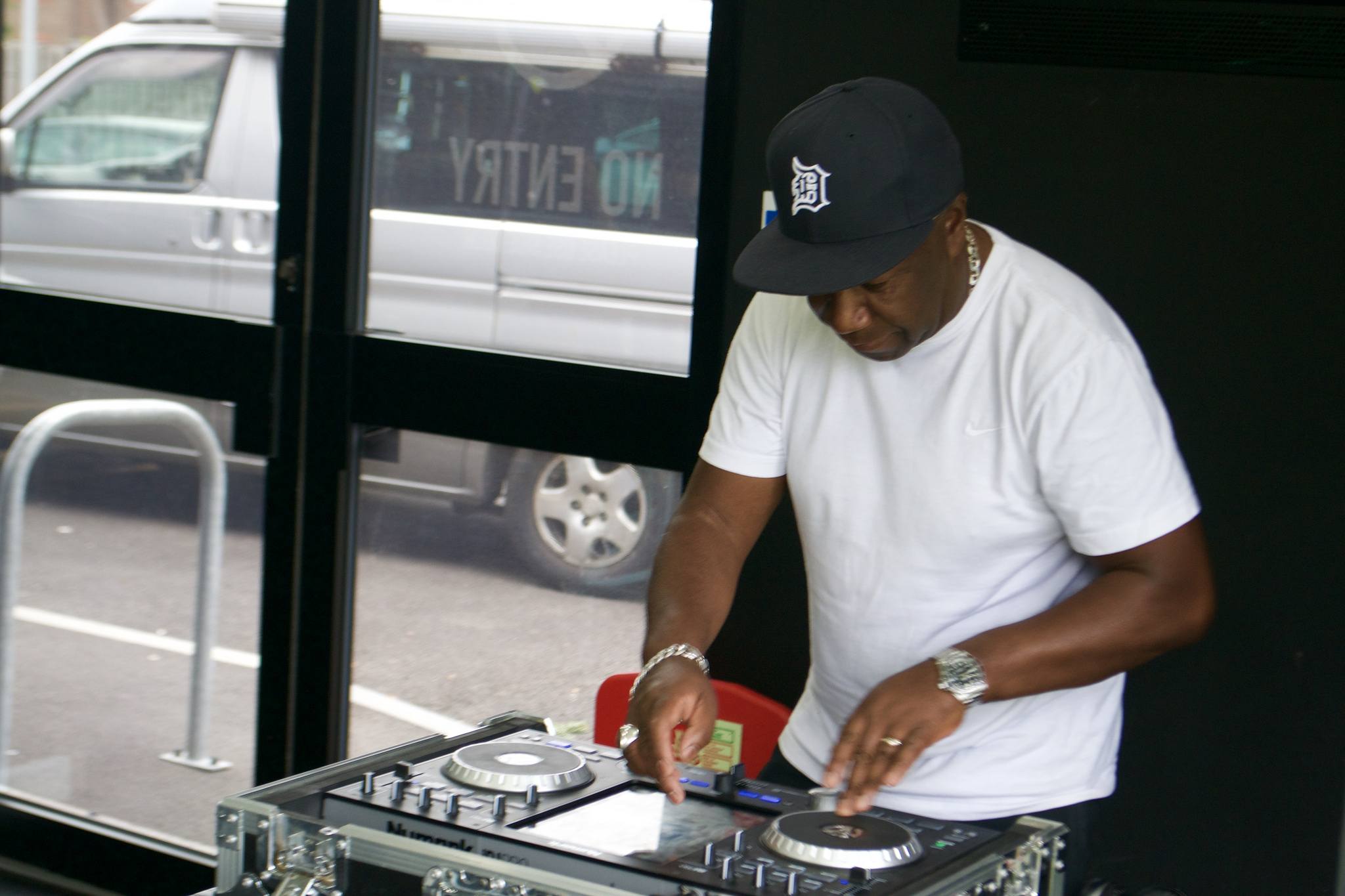 Group Stages
After one or two last minute no-shows, the groups were hastily re-arranged at the last second, and battle commenced under a slightly gloomy Shepherds Bush sky. On pitch 1, the war of the reds (Miloco v Virgin EMI) proved to be every-so-slightly one-sided, as Miloco had clearly taken the selfless decision as hosts to throw their matches in favour of the opposition. Thanks to these frankly heroic tactics, a flattered Virgin ended up with a cool 12-1 victory.
Elsewhere on pitch 2, a rampant SRLV flexed their collective muscles against a slightly jaded Lawrence and the Machine, and stormed their way to another 12-1 victory
Not wanting to feel left out, a menacing Polydor team, kitted out in all-black, completed the hat-trick of first-round 12-1 victories, against a substitute-less Island Records side, who must take the best-dressed award for their beach-themed shirts.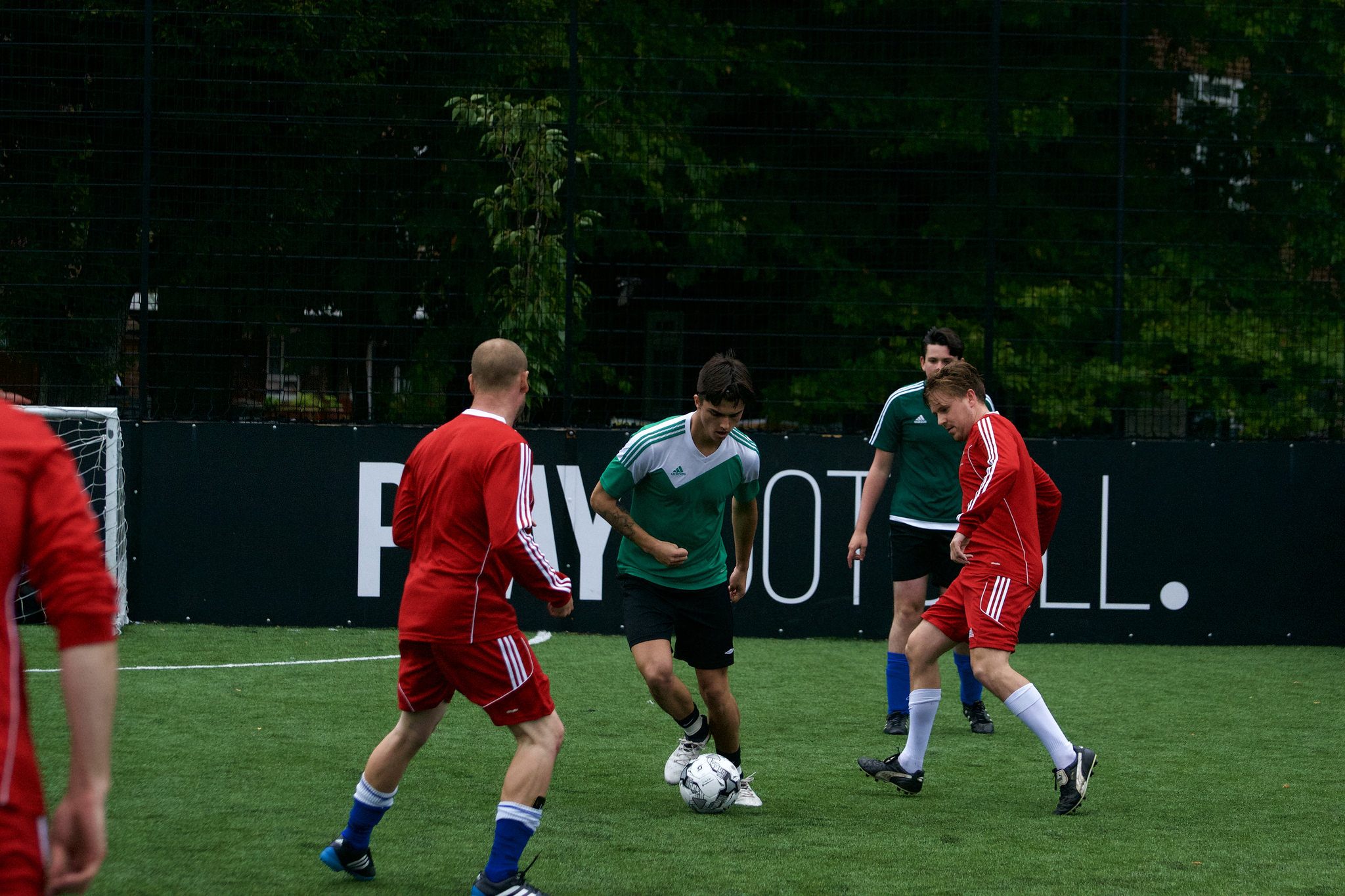 Sadly for a significantly short of breath Island team, there was no let up, as they were straight back into action against a well-organised and pumped-up Natty & the Rebelship, who steam-rollered them 10-1. It was not looking good for Island.
Another dominant performance on pitch 2 saw QPRS sweep aside the Sweat Ent boys in a convincing 9-1 demolition, while back on pitch 1 Miloco carried on their valiant crusade of selflessness by guiding Polydor to an 11-1 victory.
It was straight back into the fray for Polydor as they ground out an impressive 3-1 victory against the mighty Natty & the Rebelship, maintaining their 100% record. Speaking of 100% records, Miloco completed their mission by laying down to an 8-1 defeat at the hands of Island despite their lack of subs, ending their day with a not-too-shabby goal difference of -28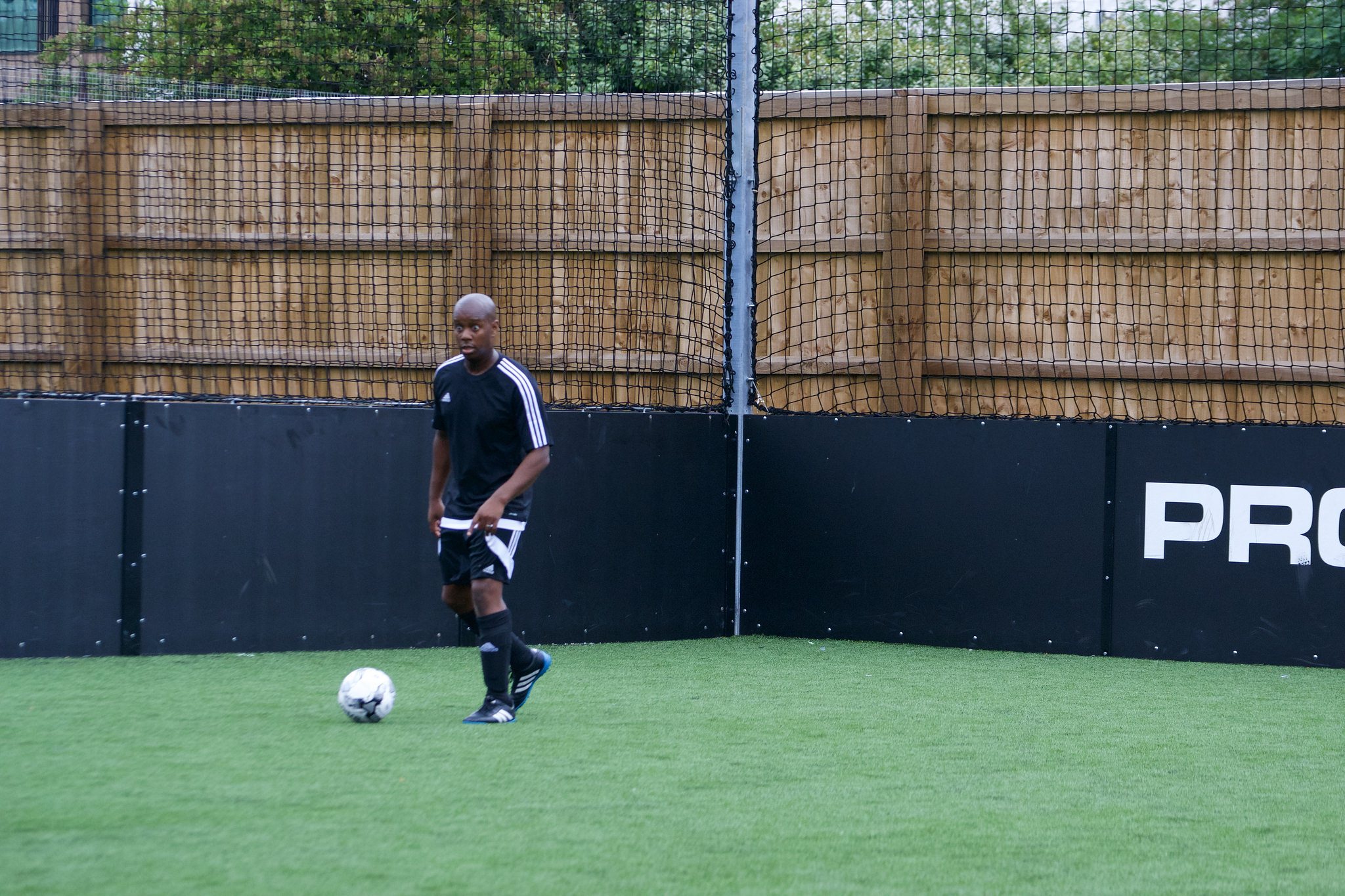 Meanwhile, amongst the sea of one-sided drubbings, a thrilling encounter on pitch 2 between SRLV and QPRS (aka the Clash of the Acronyms, leading to much confusion amongst the refs), finished in a 4-4 draw, surely making it the 'Match of the Day' under the shadow of the old Television Centre.
After Polydor, SRLV, QPRS and Natty all handed out a couple more cans of whoop-ass, the group stages were done, leaving the quarter final fixtures to be decided. Due to drop-outs and no-shows, all-but-one team would progress through to the dizzying heights of the Miloco Cup Quarter Finals. On 0 points and -25 goal difference, Sweat Ent were heading home for an early bath, but they weren't privy to Team Miloco's master plan… Cue scenes of jubilation as they were informed that they would be going through by a mere 3 less conceded goals.
Quarter Finals 
And so it commenced. Knock-out football. No time for games. Play time was over. Other sporting clichés. The scene was set for a mammoth grudge match between Virgin EMI and Polydor in the semis. All they had to do was win their respective quarter finals against SRLV and Lawrence and the Machine.
On pitch 3 it was not looking good for Polydor. 15 minutes played, 5 to go, and they were 2-1 down. Lawrence and the Machine were giving nothing away. With gritted teeth they ploughed on, soaking up the Polydor pressure like a horribly sweaty sponge. But finally, with mere seconds to go, they finally relented, conceding 3 heartbreaking late goals, sending Polydor through to the semis.
But how were Virgin EMI faring over on pitch 1? Shockingly, as it turned out, as they were trounced 8-0 by a rampant SRLV. These boys meant business.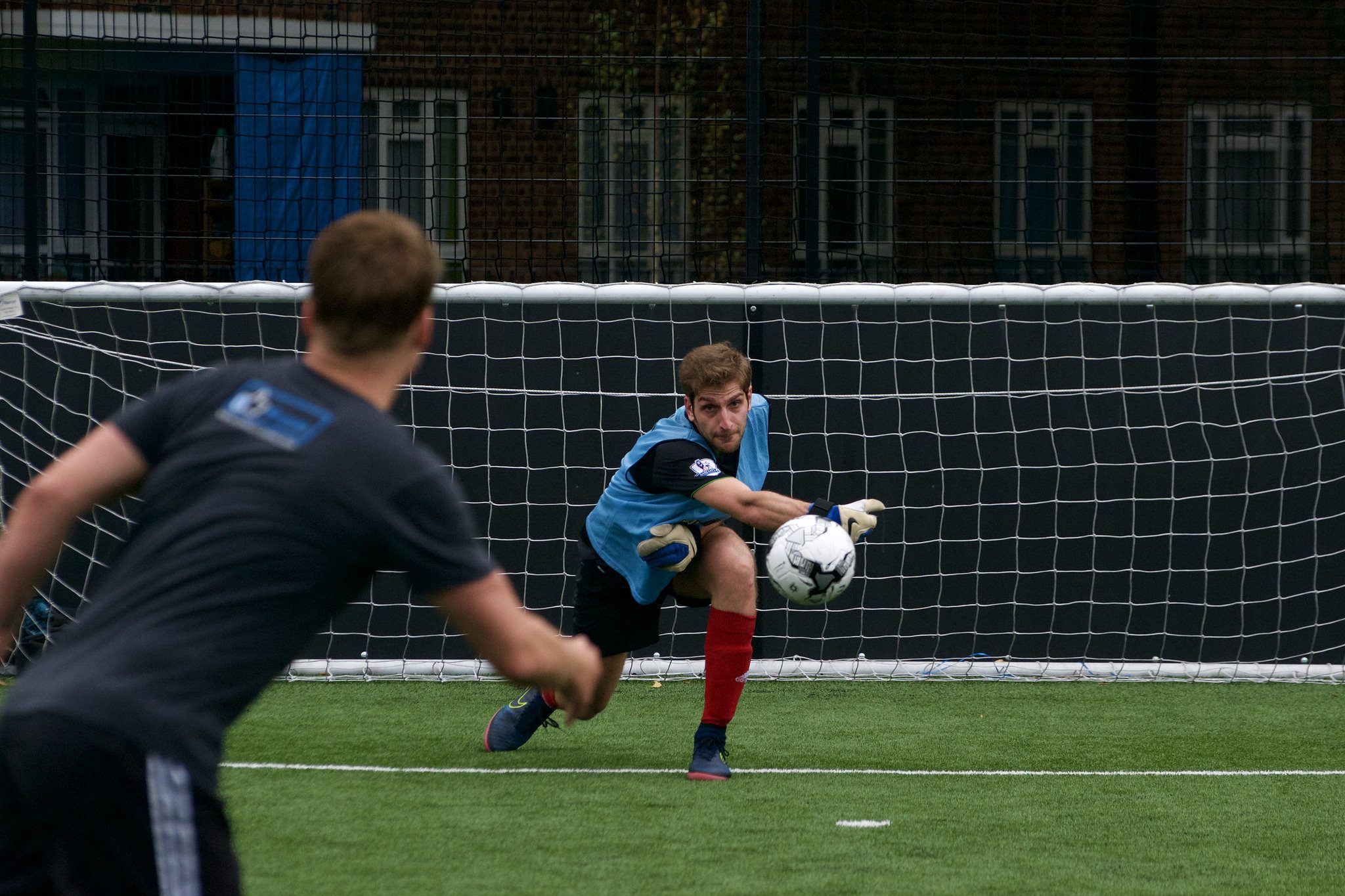 Meanwhile on pitch 2, two undoubtedly strong sides were taking part in a battle royale, with tackles and goals flying in from both teams. In the end, however, Natty and co just proved too much for QPRS to handle, and they ended up with a convincing 7-3 victory. On pitch 4, Island looked to have been brought back from the dead as the cavalry arrived when they needed it most, their two latecomers giving them a whole two subs on the bench for their quarter final against Sweat Ent. While they put up a good fight, the unthinkable happened and Sweat Ent finally put some points on the board, with a hard-earned 7-4 win.
Semi Finals
The semi-finals were upon us. 9 teams had been whittled down to 4. The prize-winners had been decided. But who would win what? For the champions, tracking heaven, as they would have the choice between a day in The Pool or Livingston Studio 1. For the runners-up, a day in the equally alluring Livingston Studio 2. Third place would be mixing some magic through the breath-taking Augspurgers in The Red Room, while fourth place would be relaxing in front of the Augspurgers' little siblings in the Bridge next door. Everyone's a winner!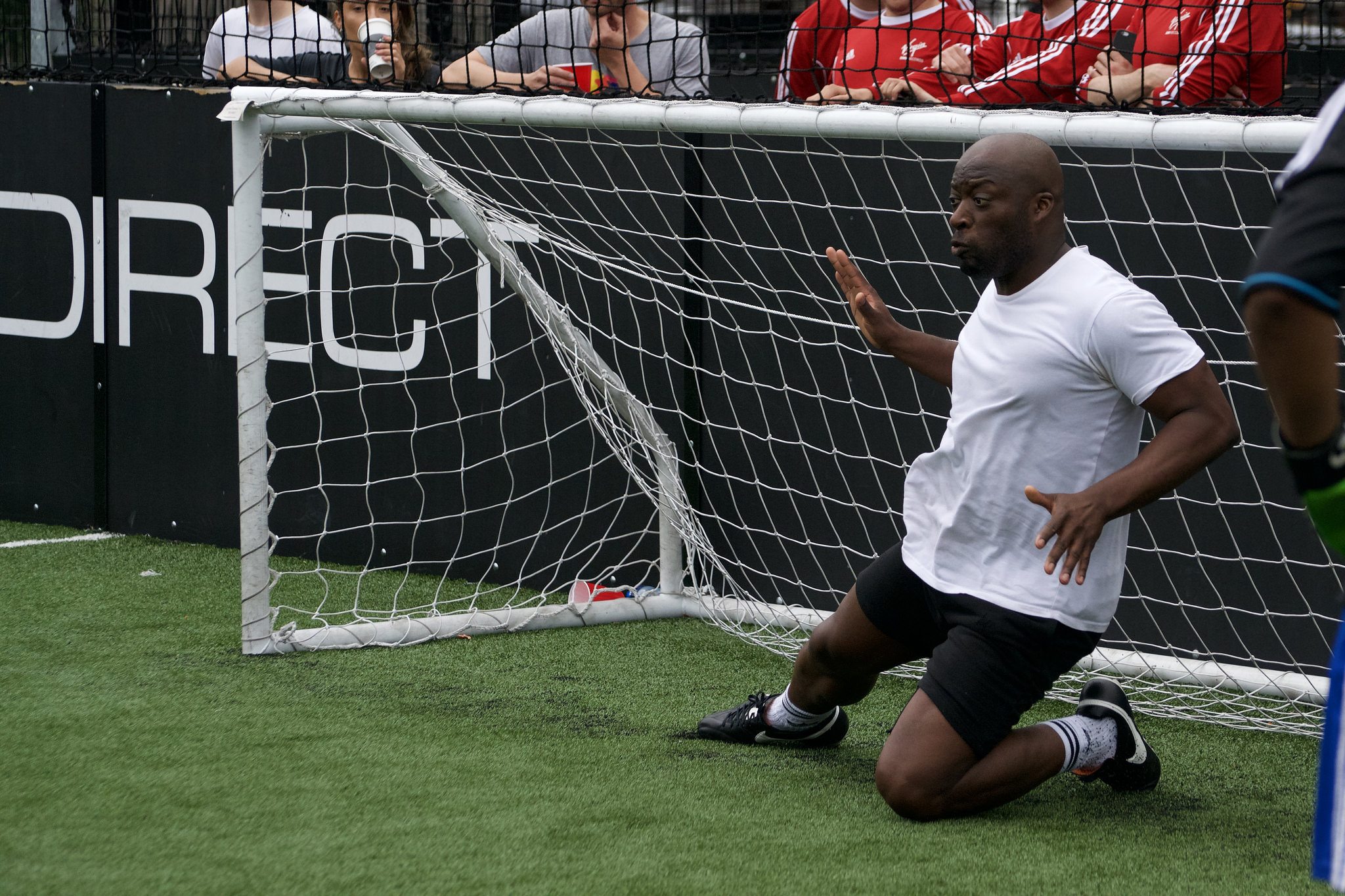 So onto the games. On pitch 1 was a real heavyweight clash. The twinkle-toed magic of SRLV against the hard-hitting boys from Polydor. It was a real back-and-forth, with some fiesty tackles going in, and some absolute peaches being scored. But try as Polydor might, the intricate passing and dribbling of the STLV youngsters just proved to be too much for them, and SRLV sailed through to the final with a commanding 5-2 win.
Pitch 2 saw the ever-consistent Natty & the Rebelship taking on the late-blooming Sweat Ent. Try as Sweat may, they couldn't stem the flow of goals from the boys in high-vis, who ended up winning the match at somewhat of a canter, with a scoreline of 6-2.
3rd Place Play-Off
 Anyone expecting a calm, good-natured game to decide on 3rd place was sorely mistaken. This was a fierce battle from the outset. Tackles flying in, tempers soaring, goals not so much, this was less Ajax Total Football, and more '88 Wimbledon Crazy Gang.
Things boiled over after the final whistle as cries of 'ringer' were heard from the Polydor team, accusations that were never founded nor denied. Anyway, with nothing to separate the two teams (in the heat of the moment, the actual score line was lost for only the hallowed Shepherds Bush turf to remember), it was down to penalties. The penalties were flying in, nets bulging, keepers floundering, crowds gasping, the drama was off the scale. Then up stepped the Polydor captain. You could tell something seemed off. The word 'ringer' still echoing round in his head perhaps? Maybe the delicious smell of the Nutkin Café barbeque had distracted him? Or maybe it was just the enormous pressure of the moment. We'll never know.
But up he stepped, firing just left of the daunting presence of the Sweat keeper. The keeper guessed right, ball cannoning off his outstretched hand. Sweat had secured a podium finish, Polydor dejectedly accepting their fate and slinking away before they'd even accepted their runners-up medals.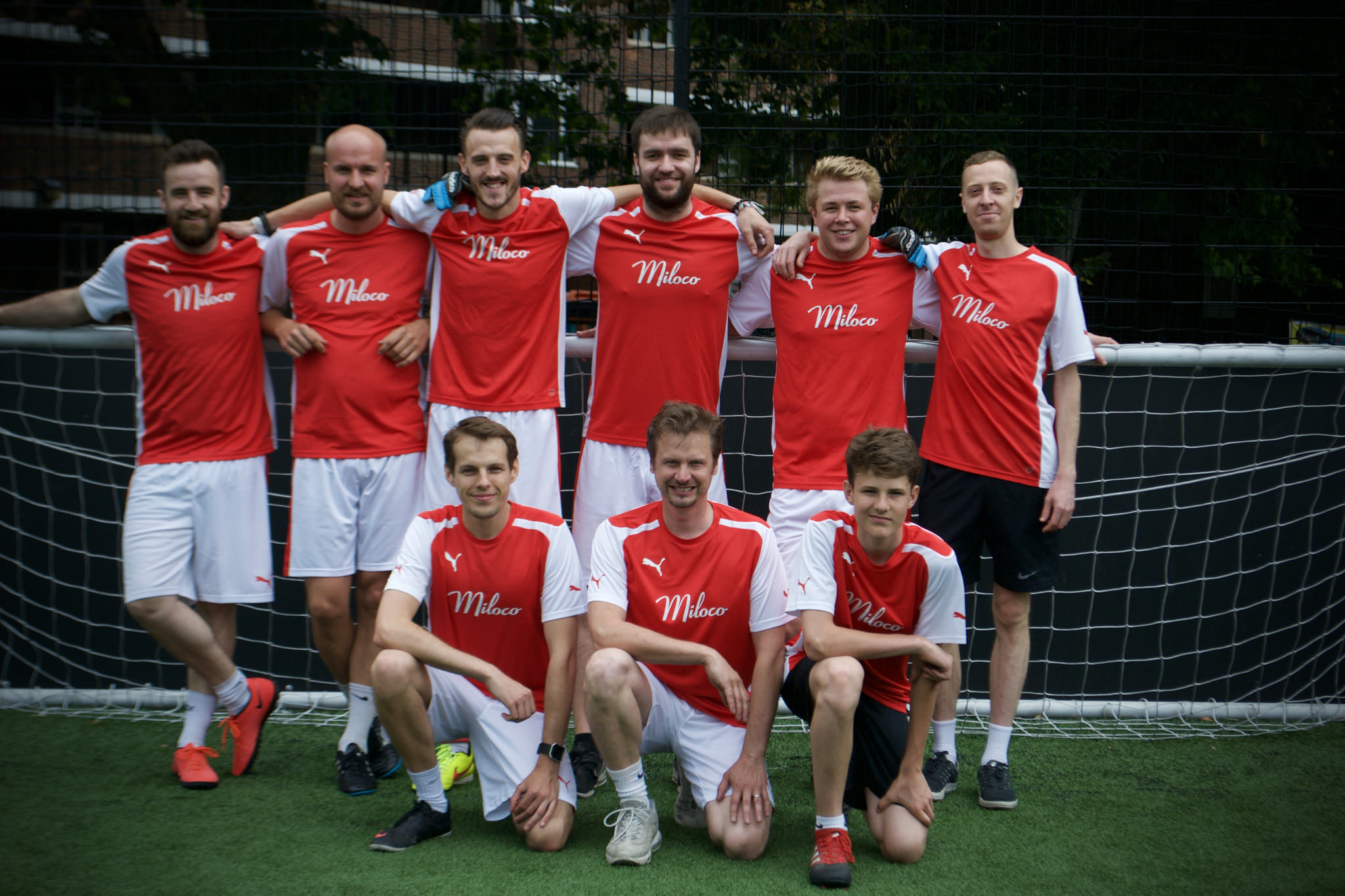 The Final
And so, the main event. Ten years in the making. The biggest moment in any music industry professional's footballing career. The final of the Miloco Cup. SRLV v Natty & the Rebelship. But no sooner than the game had kicked off, Natty was down. The captain, the leader, the talisman. Gasps rang around the theatre of dreams. A wayward SRLV boot had raked Natty's Achilles Heel. Was it intentional? Sadly video replays haven't been brought into the Miloco Cup yet (rumour has it they're on the cards for 2018), but I could certainly see no malice from my vantage point at the bar.
After a couple of heart-in-mouth minutes, Natty finally got back to his feet and jogged it off. He was a different player though. The panache was gone. The turn of pace was diminished. And SRLV could smell blood. They pounced, and pounced again, scoring two in quick succession. The final whistle blew. SRLV had done it. Final score? In truth I don't think anyone really knows (or remembered to write it down…), but what is for certain is that SRLV were champions.
Prosecco was sprayed, a trophy was lifted, tears of joy were wept.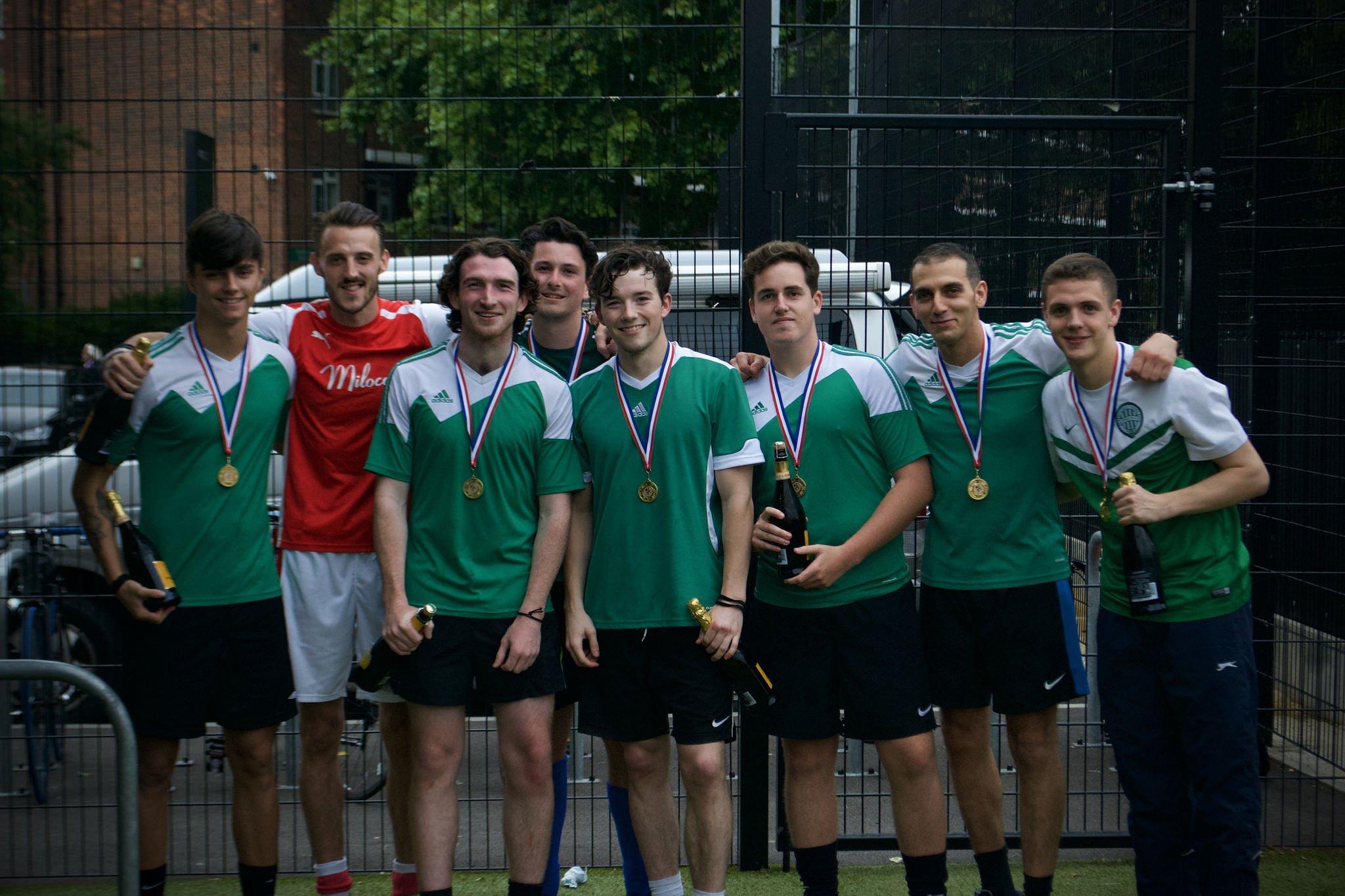 And that's how it went down. Thanks to everyone who made it a truly memorable day, and we hope you can make it back again next year to do battle again (and maybe SB.TV will make it this time!)
Check out the photo album on Flickr for all the action shots from the day, and if you haven't already, please donate to our Just Giving page raising money for Martlets Hospice.