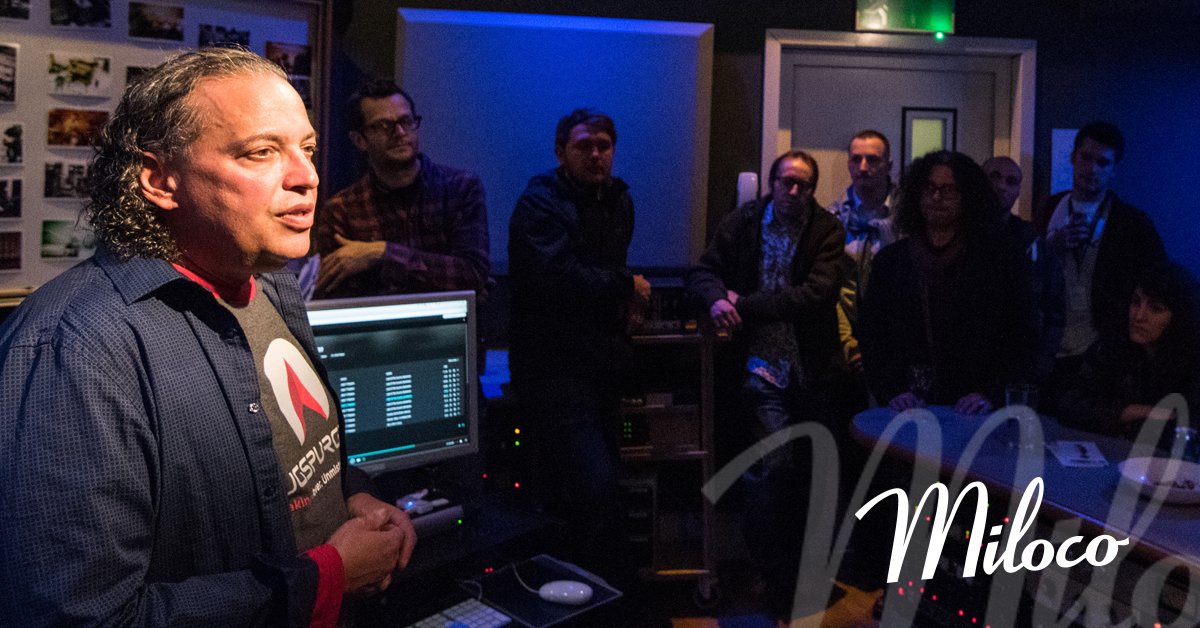 For anyone who wasn't able to come to the Miloco Gear Pro Audio showcase last week, make sure you get your tickets for the next one! It was a lot of fun having so many different people, brands and products in one place being so supportive of each other's work, really something special to be a part of.
First of all, thanks to everyone that did come down, it was great to see you all – old faces and new – as well as a huge thank you to everyone who brought in toys for us to play with and shoot out, and I have to say I was super impressed with a lot of what is being concocted by you. From bit crushing pedals to silky compression, it was all on display.
Congratulations too to the lucky few attendees who walked away a little heavier after winning some new equipment courtesy of Quested, Adam, Focal, Warm, SSL and Audient!
Following on from the success of our bus compressor and microphones shoot outs at the previous event, we decided to take it a step further. This time around we hosted shoot outs of classic and modern pre-amps – hosted by the wizard that is Dax Liniere, and a compressor shoot out featuring kit from all eras of recorded music – hosted by myself.
I'm not often blown away by equipment, but some of the toys we had in the building on the night did just that, the Lisson Grove AR1 is pure magic in a box, but if you're after something that does the job without asking for a credit, then definitely try out a Manley ELOP! Special shout out to The Pool's ADL 1500, which stood up against many of the classics.
Dax, I'm waiting for your vote on who edged ahead in mic pre shoot out! Aren't we all?
Gear shoot outs and general nerdery aside, making my way through the Miloco HQ corridors there was something to grab my attention in every corner, and I'm not just speaking about the delicious beverages – we had voodoo masters Trinov showing off their incredible room adjustment/treatment machine, Quested, Adam, Focal & old friends Augspurger making everyone dance with their new sound blasting machines, Sony with their new hotly awaited C100, and countless other toys form Eventide, Audient, Focusrite and many many others.
It was a real candy store for anyone even vaguely interested in recorded music and tech.
One of my favourites of the night were the new Quested Q212 Free Standing monitors, they sound incredible, and for those who like it LOUD, they had the power to make The Pool studio shake.
Speaking of speakers, Oisin Lunny hosted a great shoot out of sub £2k monitors from The Red Room, in the running were Unity Audio, Focal, Adam and PMC. These things sound a lot better than the price would indicate, best you hear them for yourselves to believe them I'd say!
But I'd be mad if I forgot one of the local favourites who brought along their magic little mixing machine, the AWS 948, by none other than Solid State Logic. And yes, it does stand up to the consoles we all know and love and manages to take it a step further with some tasty modern features.
For anyone looking to get their hands on one, we'll be holding one in our HQ for the next little bit, so get in touch with bookings if you're interested bookings@miloco.co.uk
If I could write about everything going on on the night I'd need to purchase a lot more drive space, but rather than fill the internet with noise, I'll leave you with this: get your tickets to the next event and come and experience it for yourself. It's a blast and educational, who'd have thought?
Simon Todkill
Chief Engineer | Miloco