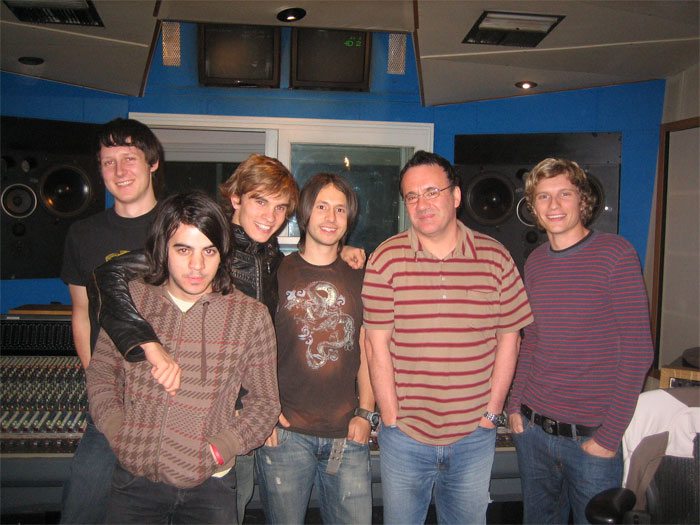 Crash Car Burn recorded and mixed in The Garden and The Engine Room in the summer of 2006, with producer Colin Richardson and engineer Matt Hyde. Here is an interview the South African band gave during the session.
A) The facts:
A1) What material did you record here at Miloco?
CrashCarBurn: We recorded for tracks for our new EP.
A2) When is it due to be released?
CCB: The tracks are currently being mastered in New York and should be ready for release in late December.
A3) Are there any guest artists on this project/are you collaborating with anyone?
CCB: Nope, not this time.
A4) How would you describe the music you're making at this moment in time?
CCB: Rock
A5) How long did you spend here at Miloco?
CCB: In total…5 days mixing in The Neve Room (plus 2 days tracking in The Garden. Ed)
A6) Have you recorded here before?
CCB: No, this was our first time.
A7) What do you like about Miloco and what do they seem to offer differently from other studios ?
CCB: Aside from the fantastic gear and facilities…exceptionally friendly and accommodating staff!
A8) Please describe Miloco in 12 words (or less)…
CCB: Friendly, quality, professional service coupled with outstanding facilities!
B) Favourite album section:
B1) What was your favourite album when you were:
a) 5-12 yrs old? Queen – Miracle
b) 13-16? Roxette 'Tourism' …blush
c) 17-25? Jimmy Eat World, Futures
B2) If you could have been involved in the writing or recording of any one album, which one would it have been?
CCB: Jimmy Eat World, Futures
B3) What is your favourite album cover and why?
CCB: Yellowcard, Ocean Avenue. It's really simple, just a photograph of a silhouetted girl. Not too sure why I like it so much…she's not even naked!
B4) Which other band or solo-artist has influenced you most over the last 12 months?
CCB: The Killers
C) Another question:
C1) What's the last book you read/what are reading now?
CCB: I stopped reading when Roald Dahl died, so, 'The Twits' I Guess!
C2) What's the last thing you ate?
CCB: Wetherspoons' Traditional Breakfast!!
C3) Who are you least likely to be sending a Christmas card to this year?
CCB: Hmmmmm…Robert Mugabe.
D) All-comers title fight:
D1) Who would win a fight between… Jack Black and Jack White? And why?
CCB: Jack Black! Have you not seen Nacho Libre? The kid has some serious moves!
E) Final music section:
E1) Which is the best gig you've ever been to?
CCB: Reading 2006…Every band I watched was awesome.
E2) What's the worst behavior ever witnessed at a gig (your own, someone else's, on/off/back stage)?
CCB: A friend of ours threw up into a glass, added some vodka and then drank it backstage after a gig in Camden…that was pretty amazing. What's more, we got it on camera!
F) The end bit:
Thank you very much for submitting yourself to the Miloco Magazine inquisition; your time, effort and patience is much appreciated.
F1) Before signing off, is there anything else you'd like us to know?
CCB: Hmmm…sorry, can't think of anything at this stage.
F2) Please tell us your website, Myspace and general contact details, etc.