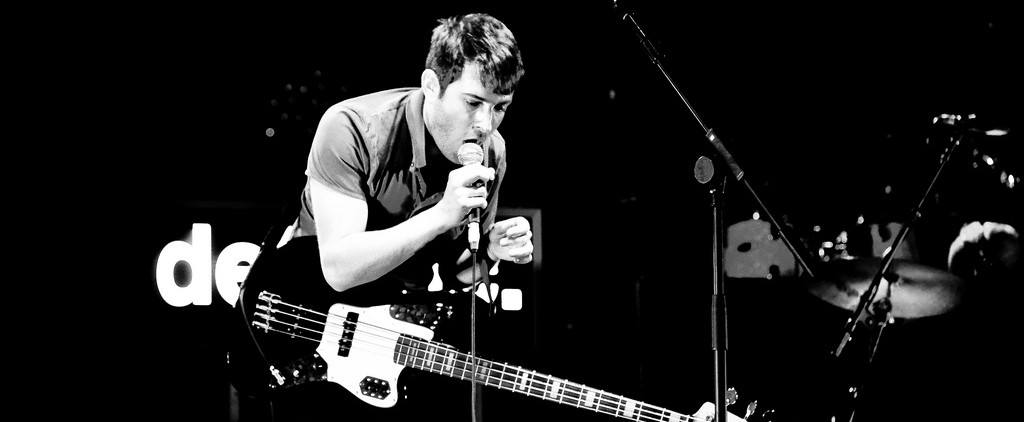 Delphic were recording in The Engine Room and The Toyshop in 2008 with producer Steve Dub Jones and Segs, when they gave this band interview.
Miloco: Name of band members and instrument of choice?
Delphic:
Richard Boardman – Synths
Matt Cocksedge – Guitar
James Cook – Vocals / Bass
Dan Hadley – Drums
Miloco: What project are you doing here at Miloco (e.g. recording, mixing or remixing / single tracks or album) and when's it due to be released?
Delphic: Recording our first single – 'Counterpoint'. Due for release in January
Miloco: Which Miloco studio/s are you using and why did you choose it/them?
Delphic: The Engine Room & Toyshop – ask Segs!!
Miloco: Who was your studio assistant and how was your studio assistant?
Delphic: Matt (Wiggins) – Brilliant, makes probably the best coffee in the world ever. Ever. (Pretty good with mic's and midi too!)
Miloco: How did you come about working with producers Steve Dub and Segs on this project?
Delphic: via Tom Rowlands (The Chemical Brothers)
Miloco: What does Dubby and Segs bring to the project that other producers / engineers wouldn't?
Delphic: Speed
Experience
Knowledge
Randomness
Ideas
A few silly questions / requests that really don't mind silly answers!! –
Miloco: The song you wished you'd written:
Delphic: 'Thankyou' by Jamelia
Miloco: The song you're glad you didn't write:
Delphic: 'Thankyou' by Jamelia
Miloco: Draw us a picture!
Delphic were speaking to Miloco in October 2008.