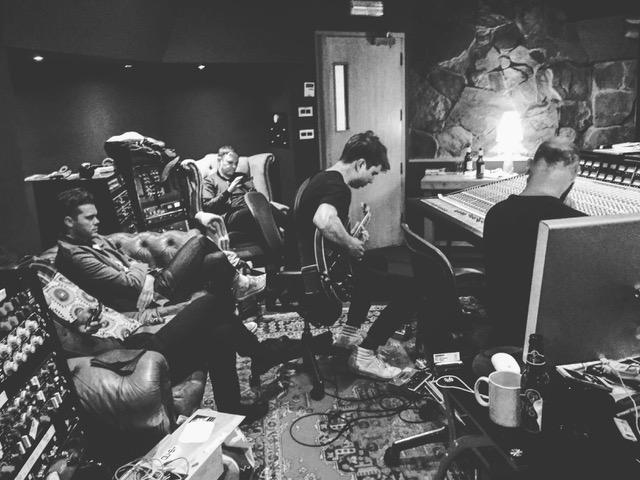 Everything Everything came to Miloco recording studios in 2009. They were recording in The Pool, and they gave this interview with the Miloco website.
Miloco: It's great to have you here at Miloco. What project are you doing here and when's it due to be released?
EE:
Our single:
A Side: Photoshop Handsome
B Side: DNA Dump!
Should be released at the beginning of March '09
Miloco: Which Miloco studio are you using and how would you describe it?
EE: The Pool, because it has a great reputation, was recommended to us by (producer) Luke Smith, and was geographically handy for us.
Miloco: How would you describe the material you are working on
EE: Good 'n' Fresh!
Miloco: Who was your studio assistant, and how was your studio assistant?
EE: Anna. Great. Made Tea. Made Coffee. Made dinner. Knew where stuff was (Equipment AND places). Knew about mics and amps. Put up with us impersonating her accent (badly).
Miloco: How did you come about working with Luke Smith on this project?
EE: Through our manger, Duncan Ellis
Miloco: What does he bring to the project that other producers / engineers wouldn't?
EE: The X Factor. Experimentalism.
A few silly questions / requests that really don't mind silly answers!! –
Miloco: The song you wished you'd written:
EE: 'James Bond' – Scouting For Girls. I'd Keep It Secret
Miloco: The song you're glad you didn't write:
EE: 'James Bond' – Scouting For Girls
Miloco: What was your strangest experience of 2008:
EE: Unexpectedly dining with an ancient aristocrat in the middle of a photoshoot. He had servants and chimneysweeps. Really.
Miloco: You are placed in front of a time machine. Which year would you go to and why?:
EE: 1066 – For The Battle.
Miloco: Any additional info you'd like us to know about?
Payphones in London are used as much now as they were in 1988. There has been no decline.
Everything Everything were speaking to Miloco in January 2009.