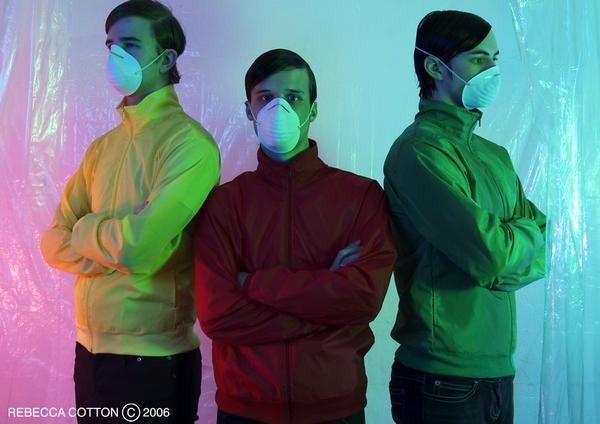 Before the platinum-selling era of the mighty White Lies Harry McVeigh, Charles Cave and Jack Lawrence-Brown were known as Fear Of Flying. They swung by Miloco in Autumn 2006 to remix a single with engineer Max Dingle. Here is an interview they gave at the time.
A) The facts: A1) What material did you record here at Miloco?
Fear of Flying: We didn't actually record anything. We were having our demo re-mixed by an engineer named Max Dingel.
A2) When is it due to be released?
FOF: The A/A single entitled Three's A Crowd/Forgetmenots is to be released on December 4th.
A3) Are there any guest artists on this project/are you collaborating with anyone?
FOF: Nope just us.
A4) How would you describe the music you're making at this moment in time?
FOF: "Post-Indie Nu-Romantic pop."
A5) How long did you spending here at Miloco?
FOF: Only two days worth of remixing.
A6) Have you recorded here before?
FOF: No
A7) What do you like about Miloco and what do they seem to offer differently from other studios?
FOF: Nice sweets in the kitchin area. Feels comfortable all around.
A8) Please describe Miloco in 12 words…
FOF: This Is Where A Man Made Our Music Sound Like Heaven.
B) Favourite album section:
B1) What was your favourite album when you were:
a) 5-12 yrs old? Michael Jackson – History or Paul Simon's greatest hits.
b) 13-16? Mars Volta – Deloused in the comatorium
c) 17-25? Anything by Talking Heads or Deerhoof.
B2) If you could have been involved in the writing or recording of any one album, which one would it have been?
FOF: Talking Heads – Remain in Light.
B3) What is your favourite album cover and why?
FOF: Uuuuum. I don't know.
B4) Which other band or solo-artist has influenced you most over the last 12 months?
FOF: Talking Heads or…I don't know…Clor.
C) Another question:
C1) What's the last thing you ate?
FOF: Cheesecake
D) All-comers title fight:
D1) Who would win a fight between… a croissant and an apple turnover? And why?
FOF: God [regrettably neither the croissant or apple turnover qualify for the next round. Ed]
E) Final music section:
E1) Which is the best gig you've ever been to?
FOF: Mystery Jets at the buffalo bar 2004
E2) What's the worst behaviour ever witnessed at a gig (your own, someone else's, on/off/back stage)?
FOF: Uno. [Editor assumes behaviour witnessed at band's own gig is nominated as worst, but that they're unwilling to divulge to the gruesome details.]
F) The end bit:
Thank you very much for submitting yourself to the Miloco Magazine inquisition; your time, effort and patience is much appreciated.
F1) Before signing off, is there anything else you'd like us to know?
FOF: Fear Of Flying are going to make a wonderful album.
Fear of flying were talking to MILC in the autumn of 2006.