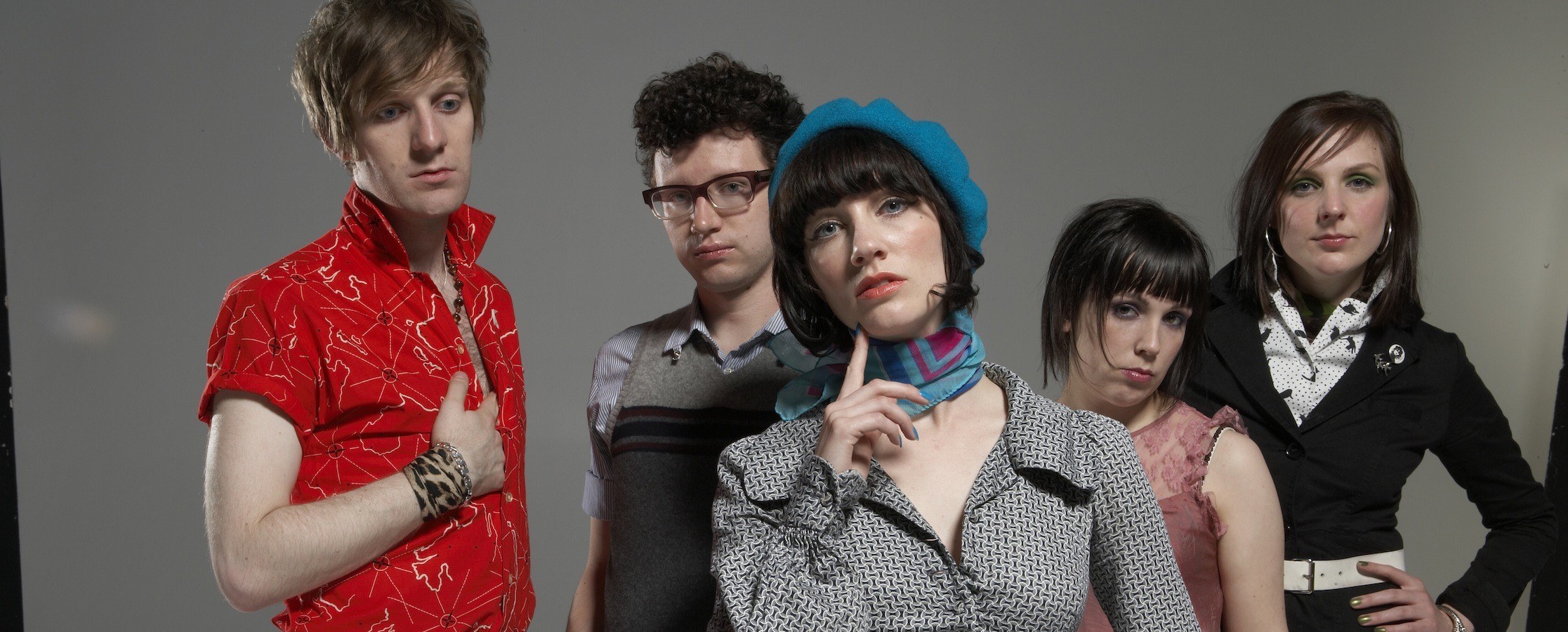 Back in the late Summer and Autumn of 2007, Long Blondes were making their second album 'Couples' in The Garden with producer Erol Alkan and engineer Jimmy Robertson. The Sheffield indie 5-piece briefly spoke to Miloco about the sessions and more.
Miloco: Name of band members and instrument of choice?
LONG BLONDES: or in our case, instrument of necessity…
Kate Jaxxxon – vox
Screech Lauder – drums
Emma Chaplin – gtrs, keys
Reenie 'Kathryn' Hollis – bass
Dorian Cox – gtrs, keys
Miloco: Quick history – when started, previous bands you were in, etc. etc.
LONG BLONDES:
2003 –

No previous bands
5 dissillusioned people
1 gig
No songs
Lots of imagination
Millions of pounds of money each
Miloco: What project are you doing here at Miloco (e.g. recording, mixing or remixing / single tracks or album) and when's it due to be released?
LONG BLONDES: Our second album. Hopefully it will be released in March '08.
Miloco: Which Miloco studio/s are you using?
LONG BLONDES: The Garden
Miloco: Please describe The Garden in one line
LONG BLONDES: Fiery
Miloco: Who was your studio assistant, and how was your studio assistant?
LONG BLONDES: Mark "The Shark" Allaway. (Seriously), brilliant. Us and Mark have a history.
Miloco: How did the working relationship with Erol Alkan come about, and what do you feel he brings to the project that other producers wouldn't?
LONG BLONDES: We've known Erol for a couple of years. We had a mutual appreciation of each other's work and it seemed natural to work with someone who had ideas and was enthusiastic, as opposed to the usual "megabucks" producer who's never even heard your songs…
A few silly questions / requests that really don't mind silly answers!! –
LB: kool…
Miloco: The song you wished you'd written:
LONG BLONDES: Donna Summer – "Love to love you baby".
Miloco: The song you're glad you didn't write:
LONG BLONDES: Gary Glitter – "Do You Wanna Touch Me (Oh Yeah)?"
Miloco: What's the strangest rumour you ever heard about yourself?
LONG BLONDES: That Screech is really called Mark. Ridiculous!
Miloco: You are placed infront of a time machine. Which year in history would you go to and why?
LONG BLONDES: 1981 – Adam and the Ants and Diana Dors. Two of our biggest influences. But, seriously, they didn't need to do that video for "Stand and Deliver". We could have told them
Miloco: Draw us a picture!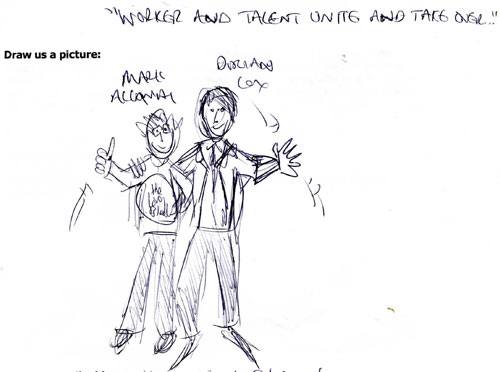 Miloco: Any additional information you'd like to let us know about?
LONG BLONDES: We've been to Miloco a few times and, quite frankly, we can't see why a band would use any other studio.
The Long Blondes were speaking to Miloco in November 2007.