Malakai were subjected to a few light-hearted questions during a session in 2007 in order for us to find out a little more about these  cats. We can now share their slightly bewildering words with you all…
Name of band members (and instrument of choice):
Patrick Fitzgerald
Gerald Fitzpatrick
(aka the Irish gay Peters n' Lee)
Gary Glitter (what's the fuss about?)
Saddam Hussein (on drums)
Quick band history – when formed, previous bands you were in, etc, etc.:
1865 with my band 'Moustache'. We woz ace and did Butlins with Bloudin.
What project are you doing here at Miloco (e.g. recording, mixing or remixing/single tracks or album) and when's it due to be released?
Mix an' blend y'get me?
Which Miloco studio are you using and why did you choose it?
Any one we want ALRIGHT?? Matt Said!!
Please describe The Pool in one line:

Who was your studio assistant, and how was your studio assistant?
(but seriously) Lovely, lovely Loz (Laurence Aldridge). Did us proud from A to Z baby x
How would you describe the material you are working on?
Oh that… fine
How did the working relationship with Steve Dub and Seggs come about, and what do you feel they bring to the project that other producers/engineers wouldn't necessarily?
Sicilian Chicken! Sterling duo, experience + expertise, all wrapped up in a soft tortilla. Gorgeous xx
You've been on the DJ circuit for some time. What was the inspiration behind moving from the clubbing side of things, into the studio to put a record together?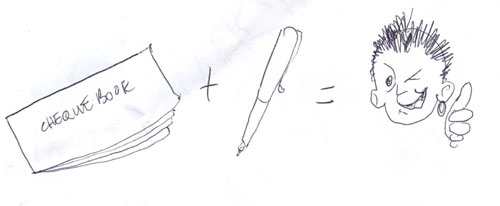 A few silly questions that really don't mind silly answers!! –
The song you wished you'd written:
'Wang Chung' – Dancehall Days
The song you're glad you didn't write:
Anything by Beethoven (I'd be dead by now)
What's the strangest rumour any of you have heard about yoursleves?
Someone said we were very well endowed, ENORMOUS (honest)
If you could go back to any point in time, what year would you go to and why?
I would've refused to to fill in this questionnaire
Draw us a picture: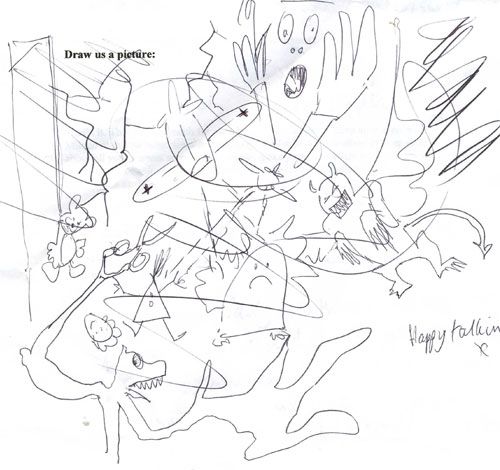 Choose 3 desert island discs…
Instructional record for making boats
Instructional record for making boats 2
Wang Chung – Dancehall Days
Contact email address: bigknife@home/aaaaghh….!!
Do you have any upcoming live dates/other events? Please list them.
Get a calendar they'll all be in there (Shrove Tuesday, Christmas etc.)
Any additional info you'd like to let us know about?
Roddy McDowah was in all the Planet of the Apes films apart from 'Conquest For Planet of the Apes'.
Sorry for stupidity, we have loved our time at Miloco, Sophie and the gang's hospitality and help, Loz ever ready and patient, we hope to see you next album, love Malakai xxxx.
Malakai were speaking to Miloco in May 2007.