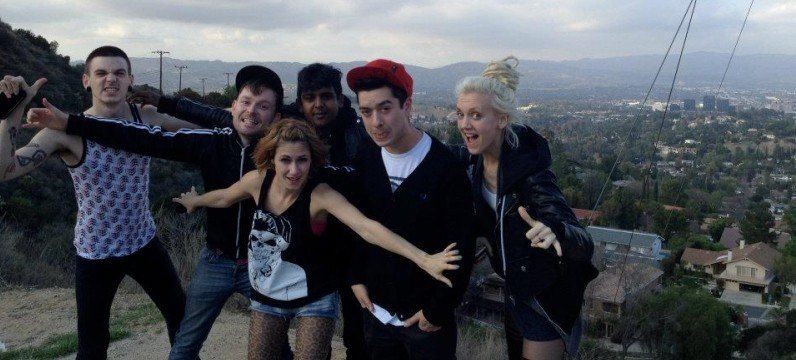 The King Blues interview from February 2008 during tracking sessions in The Square.
Miloco: Name of band members and instrument of choice?
THE KING BLUES:
Itch Fox – vocals, ukelele
Jamie Jazz – guitars
Fruitboy – guitars, backing vocals
Johnny Rich – bass
Jim – percussion Gumby – drums
Miloco: Quick history – when started, previous bands you were in, etc. etc.
K B:
Miloco: What project are you doing here at Miloco (e.g. recording, mixing or remixing / single tracks or album) and when's it due to be released?
K B: Recording and mixing an album – around August/September time.
Miloco: Which Miloco studio/s are you using and why did you choose it/them?
K B: The Square – nobody told me why.
Miloco: Please describe The Square in one line:
K B: Poorly named – it's more oblong thn square
(we can explain that it is in fact named as a reference to its location on Hoxton Square. The actual shape of the room was not considered)
Miloco: Who was your studio assistant, and how was your studio assistant?
K B: Mark (Allaway), and he seemed to be in good health.
Miloco: How would you describe the material you're working on?
K B: "It's alright" – Fruitbag.
Miloco: How did the working relationship with Clive Langer and Finn Eiles come about, and what do you feel they bring to the project that other producers/engineers wouldn't?
K B: We met Clive in a pub in Kentish Town. He bought us GUINNESS.
A few silly questions / requests that really don't mind silly answers!! –
Okay
Miloco: The song you wished you'd written:
K B: '1999' – Prince
Miloco: The song you're glad you didn't write:
K B: 'Bittersweet Symphony' – The Verve
Miloco: What's the strangest rumour you ever heard about yourself?
K B: Either the rumour that Itch was dead, or that Fruitboy caught a sty from a stripper on his 21st birthday.
Miloco: You are placed infront of a time machine. Which year in history would you go to and why?
K B: Have you ever seen Back to the Future 2? That's what I would do.
Miloco: Draw us a picture!
The King Blues were speaking to Miloco in February 2008.