British 'electro-soul' duo HONNE release their debut album, Warm On A Cold Night, on their own Tatemae Recordings imprint today.
Having released a staggering four EP's over the 18 months or so since the group began, WOACN (named after the first single they released in late 2014), is the first album for Andy Clutterbuck and James Hatch, which represents over a year's work recording.
Andy and James enlisted the help of Miloco engineer Mo Hausler to record London's House Gospel Choir in Livingston 1 for the album, alongside Livingston's in-house assistant Tom Archer.
Spending a full day in Studio 1, the team recorded choir vocal sections for 6-7 tracks on the new album in July last year. Using Livingston 1's large live room, the duo rehearsed with HGC around the studio's Yamaha C5 grand piano before beginning recording, which was teased out on HONNE's Twitter.
Great day recording with the @HouseChoir today. A real highlight of recording the album so far. pic.twitter.com/HklTIZ4JWH

— HONNE (@hellohonne) July 8, 2015
For recording, the eight-piece choir arranged themselves in a horseshoe with Mo strategically placing microphones around them to capture the best sound (pictured below). He used three stereo pairs; Neumann FET47's in XY position in the centre of the horseshoe, AEA R84 ribbon mics as a spaced pair, and Neuman TLM's as wide, spaced room microphones.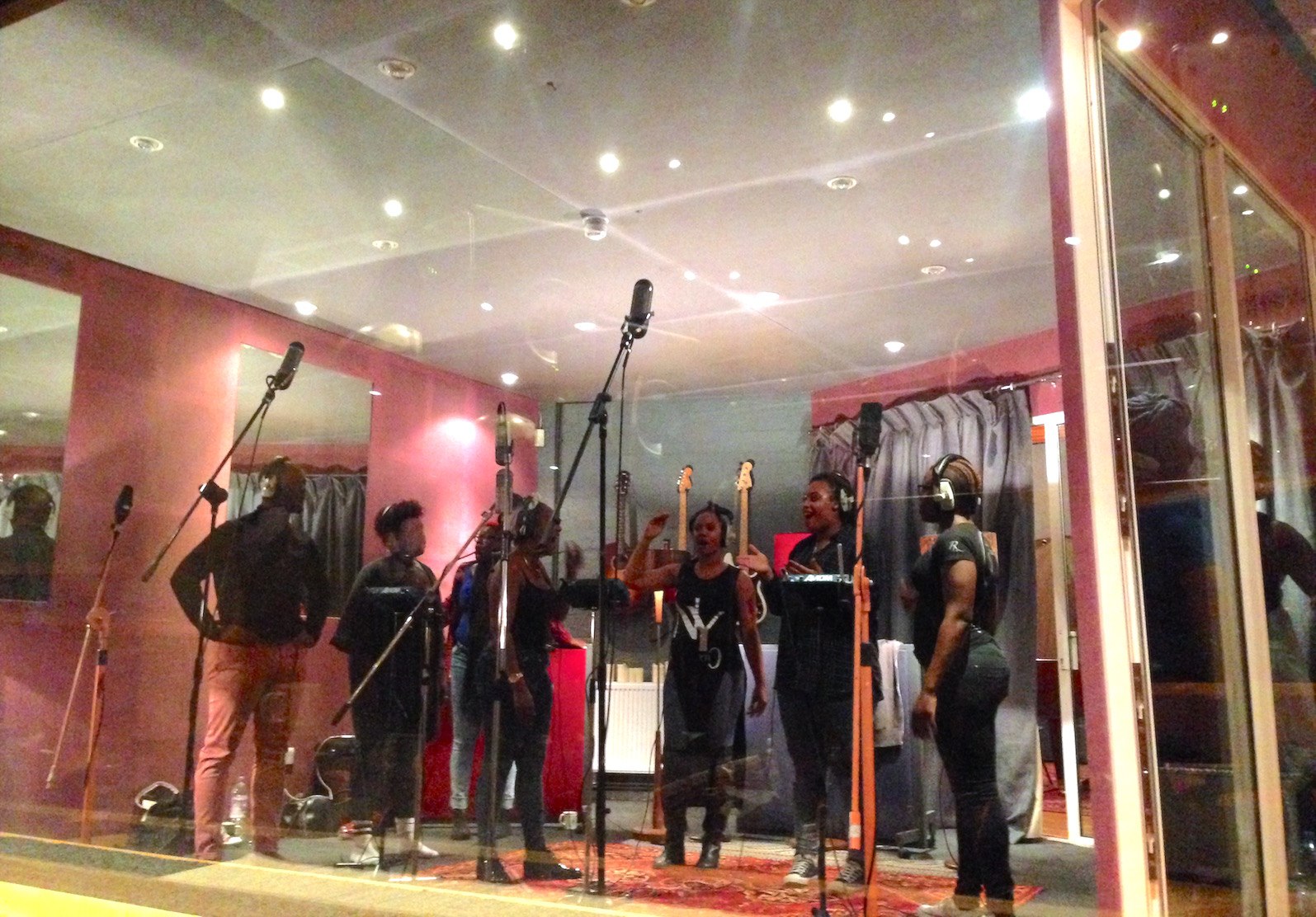 "The energy of HGC was incredible," says Tom, who assisted on the whole day. "ShezAr (who runs and leads the choir) was on another level. You realise how essential someone like her is to the operation, bridging the gap between the choir and the artist, saying things straight and knowing when certain parts could be performed better."
Featuring some of the hits from their previous EPs, most of the album tracks are new, including 'It Ain't Wrong Loving You', which you can see being rehearsed in the video below.
Here's a little sneak peek…..???? @HouseChoir pic.twitter.com/Fv3W2Prw2u

— HONNE (@hellohonne) July 9, 2015
Click the badge in the header to buy the album on iTunes, or here to stream on Spotify.
House Gospel Choirs Current Settings#RepHGC #HonneStudioSession #HGCYeah pic.twitter.com/stVYTTiQaR

— HouseGospelChoir (@HouseChoir) July 8, 2015